HOW TO BUILD A MONEY MACHINE!
HI, and welcome!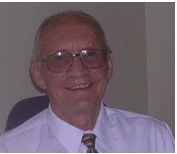 I am the owner of the Small Business Training Center. We help hundreds of people every day discover and master new ways to earn income. In this economy, the old ways are no longer working.
I used to work hard. The 12 hour days. The 6-day weeks.
But I didn't start making money until I worked less - a lot less.
You are here because you want to be Person "B" - work smarter creating money for yourself rather than person "A" who creates money for someone else.
| | |
| --- | --- |
| Person "A" | Person "B" |
| | |
I don't know how you feel about having more money than you need, but for our family it has been a huge blessing. It has freed us from slavery and empowered us to do much good and help many people.
My turning point
It was when a friend of mine (who always seemed to have more money than he needed) several years ago taught me about creating a money machine. At first I thought he was going to tell me about a "get-rich-quick" scheme or some MLM.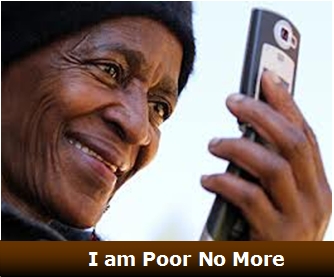 However, once I understood what he meant by a money machine and how easy it was, I quickly said: "Wow, I can do that".
Since then I don't even like jobs. People want to hire me and I turn them down.
It's like why do I need a wall phone with a cord (job) now that I have a cell phone (money machine)?
What you are going to discover is it's not that hard to build a money machine, once you know how (knowledge is money) and have the tools.
In fact, once you see how easy it is, you too will say: WOW, I can do this!"
So if this is new to you, do me a favor and keep reading before you decide.
What is a Money Machine?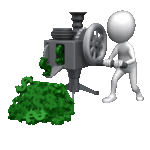 It is just like this picture - It's YOU knowing how to convert a small amount of money into a larger amount - like putting in $1 and having it come out $10. Knowledge is money.
It is the opposite of working longer and harder creating money for someone else. It is working smarter creating money for you.
It can be a home business, a short term "gig", "hustle", fundraiser or activity. The criterion is the same - it must put more money in your pocket than it costs you.
It's a skill you can easily learn in a few hours. Once mastered, you will work smarter, not harder. You will be out of slavery, always have money in your pocket, be empowered to do much good and help many people.
It's a skill you would be wise to master and use daily. With this skill you will be able to, for example, raise $200 in quick cash to pay a bill; an extra $500 each month so you don't run out of money before your next paycheck; $2,000 to pay cash for a major purchase or repair; and/or create an income producing business.
Is this a skill you would like to have?
Of course. Then your friends can say how lucky you are. Wouldn't that be cool!
Everyone needs money, even more than they now have. So as a friend, I am going to make an irrestible offer you'd be a darned fool not to do.
So here is my offer…
| | |
| --- | --- |
| | I will help you master this simple, yet powerful skill TODAY so you can build your Money Machine TOMORROW, and start cranking out needed income! |
| | AND |
| | If needed, I will provide you some "built-for-you" money machines so you can earn-while-you learn. |
Be one of the proactive people who will spend this special day building step-by-step their personal Money Machine.
Based on your passion, skills, and interest you will know what you are going to do, how you are going to do it, and confident it will be profitable because it meets very specific Money Machine criteria.
At the end of the day it should be ready for production, and you will be on the road to Poor no More.
An offer you can't refuse. Right?
(IF YOU ARE READY, SCROLL TO THE BOTTOM NOW)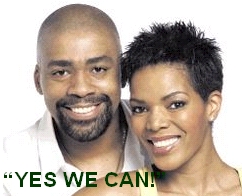 ---
WHAT THIS DOES NOT REQUIRE
| | |
| --- | --- |
| | Doesn't require "business education" - many of our students earn thousands each month with just a high school education. |
| | Doesn't require "capital" – many students earning hundreds each week started with "0" startup cost. |
| | Doesn't require "luck" – those who follow these instructions and work the plan put hundreds of dollars in their pocket within a few weeks, often days. You may do better. One student I know had her Money Machine cranking out money in a few hours. |
| | Doesn't require "talent" – just enough passion and brains to turn opportunity into cash. |
| | It isn't "age" sensitive – we have 16 year olds and 68 year olds earning as much income as they want. |
WHAT IS REQUIRED
Desire.
A desire to solve your own financial problems. A desire to have more money than you need. A desire to be debt free. A desire to get out of the 'rat race'. A desire to get off government assistance. A desire to spend less time working and more time doing what you love. A desire to be free from money worries. A desire to earn your income doing what you love. A desire for the dignity and pride of being self-reliant.
$17.
Most of the time students purchase this workbook for $49 off our website, and they consider it a bargin.
However, today we are offering the Build Your Own Money Machine workbook for just $17 if you will take our survey.
That's it. Do you see why it would be wise to accept my offer today?
A wise proverb says: "The best time to plant a tree is 20 years ago. The second best time is today."
Translated: the best time to start your Poor no More money machine was last year. The second best time is today.
Your journey to Poor no More begins with this unique step-by-step construction manual - Building your own Money Machine.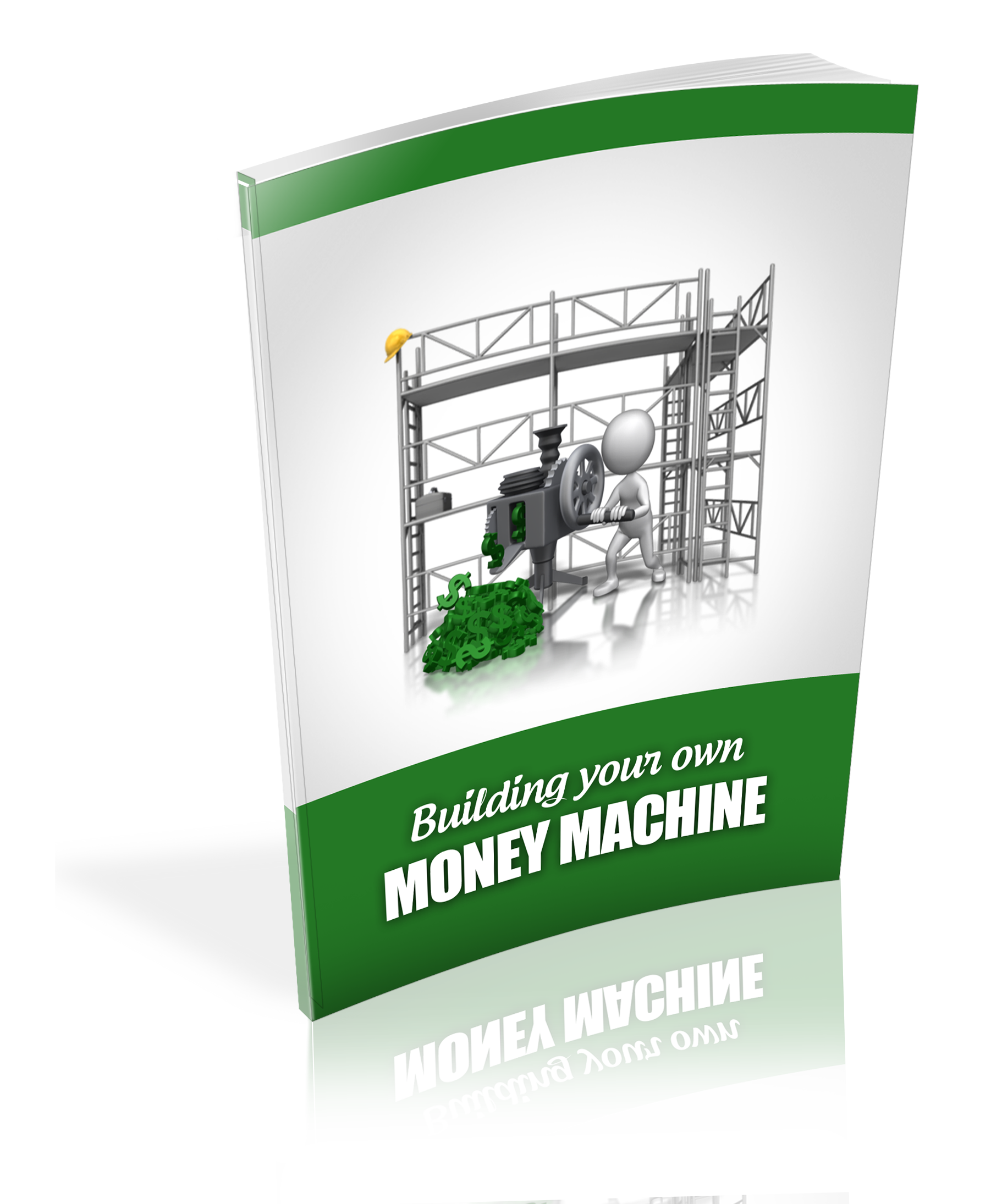 This is only available through the Small Business Training Center. No where else can you get this step-by-step workbook and training.
By following the step-by-step instructions, you can have your 1st money machine pumping out small amounts of cash within 30 days. Once you master the skills and your confidence increases, you can easily create new, bigger, and better ones any time you need extra income.
WHAT IS INCLUDED
1. Powerful training - unless you are planning to spend tens of thousands on a business and thousands on business training, in just a few hours you will KNOW HOW to put $10 in your pocket for each $1 you spend.
2. The 6 Money Machine criteria - the closer you come to meeting these criteria, the better your money machine will produce. These criteria also help you maximize your success and minimize your mistakes.
3. The easy-to-follow steps to build your own money machine - complete each step and start producing income within a few days. (some have created their first money machine within a few days)
4. Some simple "done-for-you" Money Machines. Over the years and with the help of our students, we have some start-today, easy-to-do, no-risk, done-for-you Money Machines for those who complete the training. You can use them "as is" or modify to meet your needs.
That's it. It's not that complicated. It is the safest, simplist, and surest way to always put money in your pocket when you need it.
GET STARTED TODAY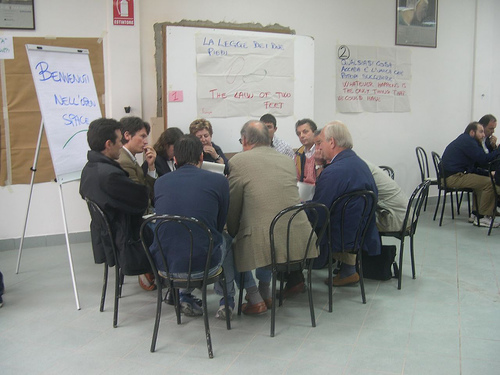 This is the same workbook students' use in our two day workshop. By the second day they have created and started their 1st money machine. Each participant pays $98.00 to attend this workshop, and they consider it a bargin.
If you are unable to attend the workshop, you can build your money machine in just a few days at your kitchen table using the same workbook. However, your cost is only $49.00 (not $98). You simply click here to pay for and download the Building your own Money Machine workbook and get started today.


If you don't mind answering 6 survey questions, you can download the Building your own Money Machine workbook at an even deeper discount - only $17.00. This special offer could be discontinued any day.
We are interested in how we can better serve you, so this survey helps us help you.
Once you complete the survey, you will be directed to Paypal where you can purchase the workbook for $17.00, and then download it to get started immediately.(be sure and complete the process by clicking on this button at the end of the survey)

Take the survey now and I will see you on the other side.

Garry StutzSmall Business Training Center253-292-7748